In September of 2014, The Corner Farmacy hit the streets of Chicago for the first time, bringing cold-pressed juices and a menu based on local, seasonal food. Unfortunately I did not try them until late November. I was instantly hooked. Everything I had from them was fantastic. Egg, bacon, cheese, tomato, and pesto sandwich. Cold-pressed kale juice. Blueberry muffins baked fresh on their truck. Then in early December, like Keyser Söze, they were gone. Well, not really gone, they just shut down for the winter season.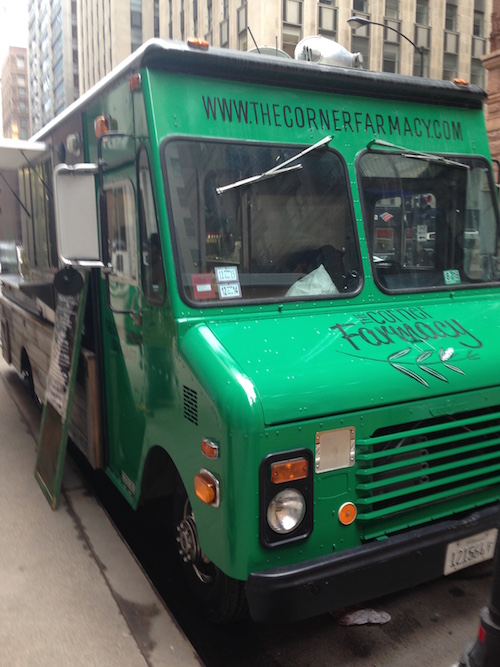 Now that spring is upon us and the truck is back on the road, I interviewed Emily Darland and Laura Feehan, the co-owners of The Corner Farmacy.
AV: What are your backgrounds?
ED: Background is such a broad term and could incite me to go on forever… I suppose you would say that my background in food and hospitality started while growing up in and around restaurants, hotels, and retail as a result of my mother's occupation and entrepreneurship. I worked extensively in sales during and following college in Iowa then moving to Chicago and helped launch Hendrickx Belgian Bread Crafter (100 E. Walton) in the Gold Coast (If you haven't yet visited, it's a must. Everything made by hand, 18 hour croissant dough, never using a sheeter. Legit French expats would claim better than/equal to Paris. Bread with literally 4 ingredients as it should be- flour, water, yeast and salt. Chicago Mag's 2012 #6 best sandwich, the Belgian Chicken Curry Sandwich. And an open kitchen where the artisanal craftsmanship can be seen and appreciated.). Having my hands in every part of that small business for a couple years, I then found myself in corporate sales as a Brand Consultant for specialty food companies for almost an equal amount of time before I dreamt up the food truck and birthed myself a way out.
LF: I have been passionate about food my entire life and have been cooking for as long as I can remember. Even as a child, nothing felt better than someone telling me that they enjoyed something I cooked. When I entered college at Iowa, I decided to be practical and go the Finance/Law route. After graduation, I was a practicing attorney specializing in civil litigation for three years and had resigned to cooking on the weekends, throwing dinner parties, and "catering" tailgates to feed my cooking needs. While I found success as an attorney, there was always something missing that left me feeling unfulfilled. The food truck idea came about at a time in my career when I really needed change and has since been the perfect vehicle to allow me to pursue my passion and share my love of food with a larger audience.
AV: How did the idea for a "farm-to-fender" food truck come about?
ED: Having grown up in Iowa we were accustomed to sharing/exchanging agriculture and produce with neighbors and community members. With farms everywhere, roadside stands were often a daily routine and farmers market a must, not to mention our hands on experience in the gardens we all had in our backyards. Fresh and local was natural and inherent, not something that needed promoting.
After making Chicago and its many neighborhoods home, it was almost disturbing how few people were eating and shopping local with the opportunities and resources at their fingertips. No matter where you are, there's a market by you. I know you know this. Let alone how many phenomenal Chicago independent small businesses there are to support. Missing our roots, I went as far as finding the largest backyard the City had to offer and planting and growing anything and everything I could. (Ironically, that backyard garden had to be sacrificed to move closer to our truck and kitchen when the time came.)
At the same time the need to help bring awareness and exposure to the local producers and artisans got stronger, the curiosity turned focus upon the food truck industry here in Chicago, and the juicing lifestyle we were falling in love with, all collided with wanting to create a new professional reality for ourselves. It was just a no brainer- all food, and no doubt the juice, is better tasting and better for us when it's fresh and local. Good food is not about ingredients, it is ingredients. It's what we know. It's where our passion lies. And of course, there was nothing remotely like it on the scene.
AV: What are some of the challenges you've faced with opening a food truck in Chicago?
ED: Of the many challenges we had launching the truck, by far the largest of them was physically receiving the truck from the guy we contracted to build out the truck and the troubles that ensued immediately following. He was refusing to bring it to us after tripling the production time (missing the ENTIRE prime season), and lying about his capabilities and the current state of the truck (to the point we were having to show up there in order to see movement). What turned into a confrontational Dateline-esque delivery in the middle of the night then transitioned into ongoing discovery and piecing together each truck component with the help of newly found mechanics, plumbers, contractors, welders, and commercial equipment specialists. All necessary to get us in working order for a City inspection but then persisting through our first quarter of operation.
This guy, J.W. Doyle in Michigan, owns a company called America's Resellers Corporation which continues to (supposedly) build out trucks for people, preying on entrepreneurs with a dream in a region that lacks resources for the industry. Regardless of the months of turmoil he caused us, the worst part was that his lack of knowledge lead to an incorrect installation of our propane stove and could have killed us. Laura thankfully walked away with minor burns but we all were psychologically scarred for life. Our hearts go out to anyone else that has gotten caught up in his B.S. and hope no one has gotten hurt.
Although many challenges to note (theft, vandalism, ticketing, etc), the only other one that carried on for weeks or months was getting our bottling license with the City of Chicago (will elaborate more below) in order to produce and sell our cold pressed juices from the truck. A timely and unguided process that exposed the inner workings of the City departments to be far from efficient.
AV: Describe the design process of the truck.
ED: As I mentioned previously, we contracted a company from MI to source our actual truck then built it out per our specifications. Having a very particular vision in mind from the get go we had to all but convince him to follow our wishes from inside out. Providing him handmade renderings of both the aesthetics of the outside and the layout of the inside along with the exact equipment and placement we wished. Also pushing him to go the distance by adhering the 70+ year old barn wood we brought from Iowa in the exact manner we envisioned. Notably his best contribution.
On the other side of the experience we now know that with the right vision and amount of direction (and perseverance) you can get anything done as far as building out a truck. It may take more time using more niche (in specialty and in quantity) individuals or teams working in unison than contracting one general contractor or company would, but considering we were having to manage the project daily from afar, would have rather been our own contractor here locally. The Midwest is still so far behind either coast and down south when it comes to food trucks and that is reflected in the resources at our disposal for build out, repair and maintenance. Some of our peers whose trucks were built out by 'a local company' were actually produced in NJ. Many of times we heard 'we don't do that' or 'we're not in that business' before acquiring our new local tradesmen. As the community continues to grow the industry will only thrive and flourish in each facet.
AV: What commissary do you use? How hard was it to secure commissary space?
ED: Kitchen Chicago (located at 324 N. Leavitt) is our commissary and while we love the atmosphere and people there we will forever dream of a home of our own. Considering our planning began in February of last year and we didn't take possession of our truck until July, we had the space easily secured by then. The parking however, was a bit more of a challenge. Our commissary parking was oversold and spatially didn't allow for our 26ft truck so we canvassed the surrounding area to find affordable alternative parking that wouldn't extend our day driving to and from by too much.
AV: How do you source your ingredients (especially in the frozen tundra of Illinois) all year around?
ED: Other than being on the streets serving the people, the sourcing and relationships we've built with our farmers and producers, bring us the most joy. Learning about the ingredients themselves, life on the farm, harvest techniques and schedules, their families, their histories, and feeling their passion all contributes to our fire burning year around (even in the tundra).
We were avid farmers' market goers prior to the truck, making identifying which vendors we could utilize for our various needs quite simple. Sparking relationships at the market led to much networking with in the community and after robust price comparisons, we had our go to's. Each farm or fresh food producer sends out an email anywhere from 1—4 times a week listing availability. From that we get our creative juices (no pun intended) flowing to determine what our menu will feature that week. Ellis Family Farm, Genesis Growers, Mick Klug Farms, Seedling, and Montalbano Farms are a few of the names often appearing on our menu but it's not a rare occurrence that we partner and support 10+ farms any given week.
Although we prefer to work directly with the farmers, producers, and artisans themselves whenever possible, ensuring they are receiving max compensation, we do use two distributors­ Local Foods Chicago and Natural Direct of Aurora. Both are companies that share our values and strive to deliver the quality local products we are committed to. We love the people over at Local Foods, it's been a pleasure to grow with them the last several months and appreciate that they allow us to peruse their warehouse like a wholesale local market. For restaurants, they have been an integral means to conveniently receive and feature local products in Chicago, and continue to make their presence known throughout the city. We are constantly looking, trying, and assessing new sources. You would be shocked at how much is available year around. Sourcing local this time of year means embracing the hardy root vegetables, the greenhouse goods, hydro/aquaponic farms, meat, grains, dairy, and dried and frozen fruits and vegetables. Nothing to balk at but don't get me wrong, we are pining for Spring.
AV: I for one am a big fan of everything I've had from your truck. What are some of your favorite menu items?
ED: More than any one particular item, our favorite thing pertaining to the menu is that it is seasonally rotating and that we are constantly using the harvest and local offerings at our disposal to create new dishes. If you were to ask us what we eat the most of from the previous offerings it would be a create your own breakfast sandwich (which we happily do with any of the ingredients we have for anyone who asks, mine personally would be a fried egg with cheddar, arugula, onion and pesto) at about 9 am and a veggie burger at about 2:30 pm. Everyone that has tried the veggie burger (containing red quinoa, mushroom, zucchini, onion, and herbs) loves it and returns for more. We obviously are passionate about the juice but our nut milks (that many in the industry have coined mylk but we refer to as nilk,) deserve more attention. Our house being an almond hazelnut but also featuring cashew, pecan, pumpkin, strawberry and cocao at varying times. Not only are nut milks free of lactose and animal byproducts but is high in antioxidants, calcium, omega 3's, and vitamin A, E and D but also is low calorie (assisting in weight loss) and holds no cholesterol so it reduces the risk of heart disease. Big fans.
AV: You're the only truck (that I know of) that sells fresh made juice on your truck. How does that go?
ED: We are the first and only juice truck in Chicago. There has been a couple others in the licensing process since before our time but not cold pressed, which is a distinct differentiator. It was extremely important to us to be the first juice truck in a market that lacked healthy alternatives. The cold press juice is still relatively new and in a growth stage here in Chicago and most of our brick and mortar competitors are located outside of the loop giving us an advantage. Being the first mobile food preparer wanting to bottle and sell our juice from our truck we encountered pushback from the City which we ultimately overcame. An additional license would not have been necessary if we were selling the juice in plastic cups with straws and lids. However the nature of the cold press, and to preserve the integrity of the product, we must not only bottle but bottle in glass to prevent oxidation. We are not allowed to produce the juice on the truck (nor would we want to for any reason other than the sake of demonstration) so all production happens in the kitchen.
The response to the juice has been phenomenal, selling out daily and requiring a look toward increased capacity down the road. At this point we are content as a micro­juicery and given the time intensive production of our products and that we are unwaveringly committed to both the farm fresh food AND the juice on the truck, we will continue to produce the artisan small batches that our customers can expect to sell out.
AV: Is the food truck your only business? What do you do in the "off­-season"?
ED: The Corner Farmacy is our main focus at the moment however both of us have and will take on various side ventures in order to create income, anything from practicing law to selling reclaimed wood, we never know what opportunities will present themselves or what we will find ourselves doing.
This first winter, our "off season" has been spent immersed in personal and professional development as it pertains to TCF. The last couple of months have passed in a wink with all the recipe development and testing, cleansing and continued education leading us toward a more plant based lifestyle.
AV: What are your future plans? Will you partner with farmers markets? Any plans to open a B&M restaurant?
ED: We are in discussions with various markets in the area as to what dates we will be where, not a permanent fixture but pop­up appearances at different locations throughout the season will be happening this year. We have also been contacted by numerous corporate organizations that aim to provide their employees with a healthy lunch offering and anticipate more partnerships of that nature in the short term.
A brick and mortar was never our intention upon embarking on this journey, however along the way it became apparent how much more efficient our operations would be if we had a space of our own. This season will establish just how far down the road that will be. Would love to have a place where our customers could come hang out with us and experience our labor intensive production first hand.